In January 2018, Sonoro Gold Corp., through its wholly-owned Mexican subsidiary, Minera Mar De Plata, S.A. de C.V., entered into the first of five option agreements to acquire a 100% interest in the Cerro Caliche Group of Concessions. Located in the municipality of Cucurpe, in Sonora State, Mexico, Cerro Caliche is strategically situated between the two world-class mining districts of the Sierra Madre Gold Belt and the Sonora-Mojave Megashear. Approximately 45 kilometers from the town of Magdalena de Kino, the 1,400-hectare property is surrounded by several gold-silver mining operations, including Equinox Gold's Mercedes mine and Agnico Eagle's advanced Santa Gertrudis project. Sonora is one of Mexico's leading mining states and is also an important producer of gold (37% of Mexican gold production in 2019), silver, copper, iron and non-metallic minerals. Low-cost available workforce, first-class infrastructure and pro-mining climate has positioned Sonora as a premier mining destination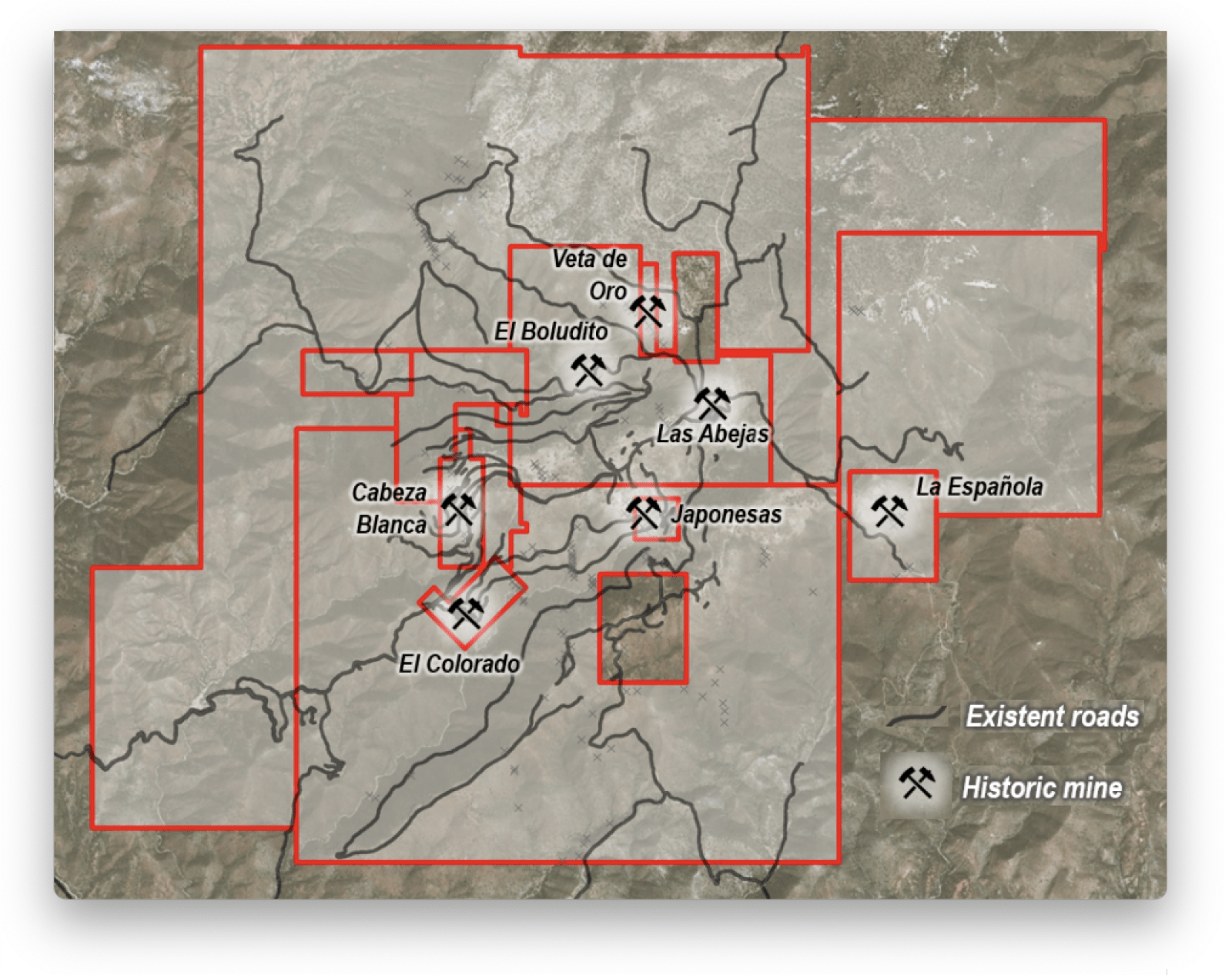 EXPLORATION PROGRAM
In September 2018, the Company initiated a 10,000-meter drilling program outlining a broadly mineralized low-sulphidation epithermal vein structure and confirming the presence of at least 18 northwest trending gold mineralized zones along trend and near surface. On July 26, 2019, a NI 43-101 Technical Report was filed with an estimated inferred resource (at a 0.25 g/t gold equivalent cut-off grade) of 11.5M tonnes at an average grade of 0.495 g/t gold and 4.3 g/t silver amenable to open pit extraction methods.
In August 2020, Sonoro Gold closed an CAD $8 million financing and initiated an advanced drilling campaign to demonstrate a material expansion of the concession's oxide gold mineralization and support the Company's vision of a Heap Leach Mining Operation (HLMO) with a proposed operating capacity of 15,000 tons per day (tpd). Four major parallel northwest trending gold zones were identified with drilling results from the northern extensions of two of the four gold mineralized zones suggesting a potential convergence. As discussed in the Company's April 5, 2021 News Release, the potential coalescence of zones into a single body of shallow, oxide gold mineralization may prove to have significant and positive economic implications for the Company's proposed HLMO.
The Company also investigated potential high-grade targets with the implementation of a core drilling program to test at depth, the area's coalescing of gold enriched stockwork zones. Drilling results demonstrate Cerro Caliche's epithermal ideal boiling zone, the most favourable location for the deposition of high-grade gold, is present at relatively shallow depth in the system allowing for future exploration for high-grade targets to continue at significantly lower costs.
In April 2021, the Company closed an oversubscribed CAD $3.11 million financing to further increase potential resource and confirm viability of the proposed mining operation with the publication of an independent 43-101 Updated Technical Report and Preliminary Economic Assessment (PEA) scheduled for publication in July 2021.
HEAP LEACH GOLD MINING OPERATION
To move forward with the development of the proposed HLMO, the Company must complete satisfactory metallurgical testing, file an updated NI 43-101 Technical Report and publish a favourable Preliminary Economic Assessment (PEA). The Company must also obtain the required permits and secure project financing.
Independent metallurgical testing is currently being conducted by McClelland Laboratories in Sparks, Nevada on over 5,500 kilograms of mineralized material drilled from ten 85-mm diameter PQ core holes. The testing focuses on the heap leach characteristics of the oxide mineralization and will provide quantified estimates of gold and silver recovery as well as recommendations for crushing sizes and associated process flow sheet development. Bottle-roll testing was completed in late February 2021 and generated a recovery range of between 70% and 90%, with the average recovery rate indicating 80.3%.
Ontario-based D.E.N.M. Engineering Ltd. (D.E.N.M.) has been engaged to prepare the PEA under the direction of President David Salari, P.Eng and assess the viability of increasing the target conceptual capacity of up to 15,000 tonnes per day (tpd). Mr. Salari is also responsible for coordinating the metallurgical testing and the preparation of the updated Technical Report in conjunction with Toronto-based Micon International Limited (Micon). Micon has been contracted and will be responsible for the completion of the updated mineral resource estimate, which is scheduled to be completed concurrently with the metallurgical testing during the second quarter of 2021.
The mineral resource estimate will include all prior and current exploration data up to April 2021. To date, the Company has drilled 314 holes and assayed over 34,500 meters, including over 25,000 meters since September 2020. When combined with historical data, total exploration of the property totals over 47,500 meters and 433 drill holes.
Company management is confident the technical reports will confirm substantial increases in the size and classification of the projected resource while noting that, to date, less than 20% of the Cerro Caliche's mapped gold mineralized zones having been drilled and assayed.
GEOLOGY
Mineralization types throughout the Cucurpe mining district include variants of epithermal low sulfidation veins and related mineralized dikes and associated volcanic domes. Local altered felsic dikes cut the mineralized meta-sedimentary rock units and may be associated with mineralization both in the dikes and meta-sedimentary rocks. The district has historically been regarded as vein dominated, but recently, open pit mining operations have been developed on disseminated and stockwork style gold mineralization.
Host rocks include Jurassic-Cretaceous meta-sedimentary rock units including argillite, shale, quartzite, limestone, quartz pebble conglomerate and andesite. Younger intrusive rock consisting of medium coarse-grained granodiorite-granite is present in the westerly parts of the concessions near the historic Cabeza Blanca mine. It is apparent that veining cuts and pervasively alters the intrusive stock. Rhyolite occurs in irregular bodies distributed in higher elevations in the northerly part of the concession, including the Rincón area, where it occurs as flows, sills, dikes and rhyolite domes. Part of the rhyolite is mineralized and appears to be related to epithermal gold mineralization throughout the property.
The nearby Mercedes mine complex area is interpreted to be part of the same hydrothermal event as the Cerro Caliche hydrothermal event as both are associated with development of extensional structural regional events in Tertiary age around 30 Ma to 35 Ma. Regionally, low temperature gold-silver fluids moved upward from a broad underlying area of emplaced calc-alkaline magma stock, through steep extensional (open) structures that tapped and channeled the fluids that deposited precious metals in quartz vein deposition sites in the Sierra Madre's epithermal mineralized districts. The "boiling phase" changes kinetics within 1,000 meters of the paleosurface (the surface as it existed during the Tertiary) and defines the zones of deposition for the precious and base metals within the veins.
QUALIFIED PERSON
All scientific or technical information contained on this website has been reviewed and approved by Stephen Kenwood, P.Geo., a Director of Sonoro Metals Corp., who is a "Qualified Person" as defined in National Instrument 43-101 of the Canadian Securities Administrators.